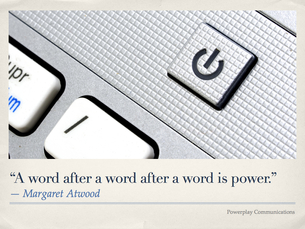 By
Melissa Walsh
Effective blogging requires consistency and endurance. It is not for the impatient nor for those with no marketing communications plan. "Good blogging is strategic," they say. "It leads to business partnerships and customers," they say … And so it does, eventually over time.
Good blogging requires labor hours and a commitment to spinning interesting enough blog content to attract a target audience as repeat consumers of your valuable content freebies. Ideally, these consumers will become your customers.
Is it worth it? What is blogging's ROI?
In their book,
ProBlogger: Secrets for Blogging Your Way to a Six-Figure Income,
Darren Rouse and Chris Garrett point out that a blog has value if the blogger has these five traits:
The ability to write

The time to write

A networked target audience

The knowledge of the blog topic

Credibility in the target market

A blogger's role demands making the blog content and blog readership top priority. This is why it is important to commission a quality blogger to maintain a company's blog — someone who knows how to write, knows the topic and knows the audience. Don't task the work of blogging to just anyone in the office with the time to do it, like the intern, office assistant or sales guy.
A professional blogger develops a strategic blog plan that fits into a company's content marketing plan and marketing communications vision. Blog content can be modular and repurposed for ebook content, training or other reference collateral, social media post, or other online or print materials. It can also add personality to a company's branding.
A professional blogger also has the good sense not to treat a blog as display advertising or in-your-face e-commerce, cluttering a web page with flashy ads and frustrating pop-ups. The professional blogger instead cultivates a relationship with the target audience by offering free information that the audience desires, like tips, reviews or stories.
So back to the ROI of blogging … if you want a return on the investment of paying a person to blog for you, commission one who knows how to write, knows your topic and knows your market. Over time, your professional blogger will convert readers into customers for your business.
© 2013, Powerplay Communications
---